Norton's homepage needed a refresh
As part of a larger project to refresh the whole Norton website, the business initially needed a new homepage design. The existing page was looking dated and wasn't adequately serving the needs of the business. There were a number of internal stakeholders who wanted to have a way to connect ongoing promotions in the market with the homepage so the experience flow was continuous. The existing homepage only had space for one promotion which didn't work if there were multiple promotions occurring at the same time. We also needed to balance stakeholder needs with the needs of the customer, essentially we needed to be their voice.
Although this was primarily driven by internal business stakeholders, there was also a potential benefit to our customers because we could surface more relevant products and service. However we needed to be careful that we weren't sacrificing customer needs for the sake of internal business requirements.
My role on the project was lead designer and I worked with the creative director, ux director and a number of business leaders. We needed to create wireframes and identify critical flows to be sure that our solution was addressing our customers' needs as well as business stakeholders. The solution needed to be flexible enough to present different types of information (offers, sales, promotions) while still following a defined structure so as to maintain brand standards and digestible information hierarchy.
Project Vision
Deliver a new homepage that helps customers find the right product quickly
UX Strategic Goals and Business requirements
UX goals
Help customers find useful and relevant product offerings quickly

Help customers get the best prices on products

Help customers understand the different products on offer
Business requirements
Reduce customer drop offs from the homepage

Promote upsells and cross-sells

Increase customer engagement with our product and brands

Provide areas for different business units to promote their products

The existing experience
The existing experience was looking dated. The images, fonts and copy style all needed a lift. The photos were part of an older brand campaign and new images were being rolled out. The brand fonts had been updated and it was time to use these more comprehensively across the site. The company was finally embracing custom fonts rather than default web fonts. The homepage was also overly focussed on promoting secondary information, overly concocted marketing copy and simply too much copy. The company needed the page to be more product focussed and more centred around explaining product features.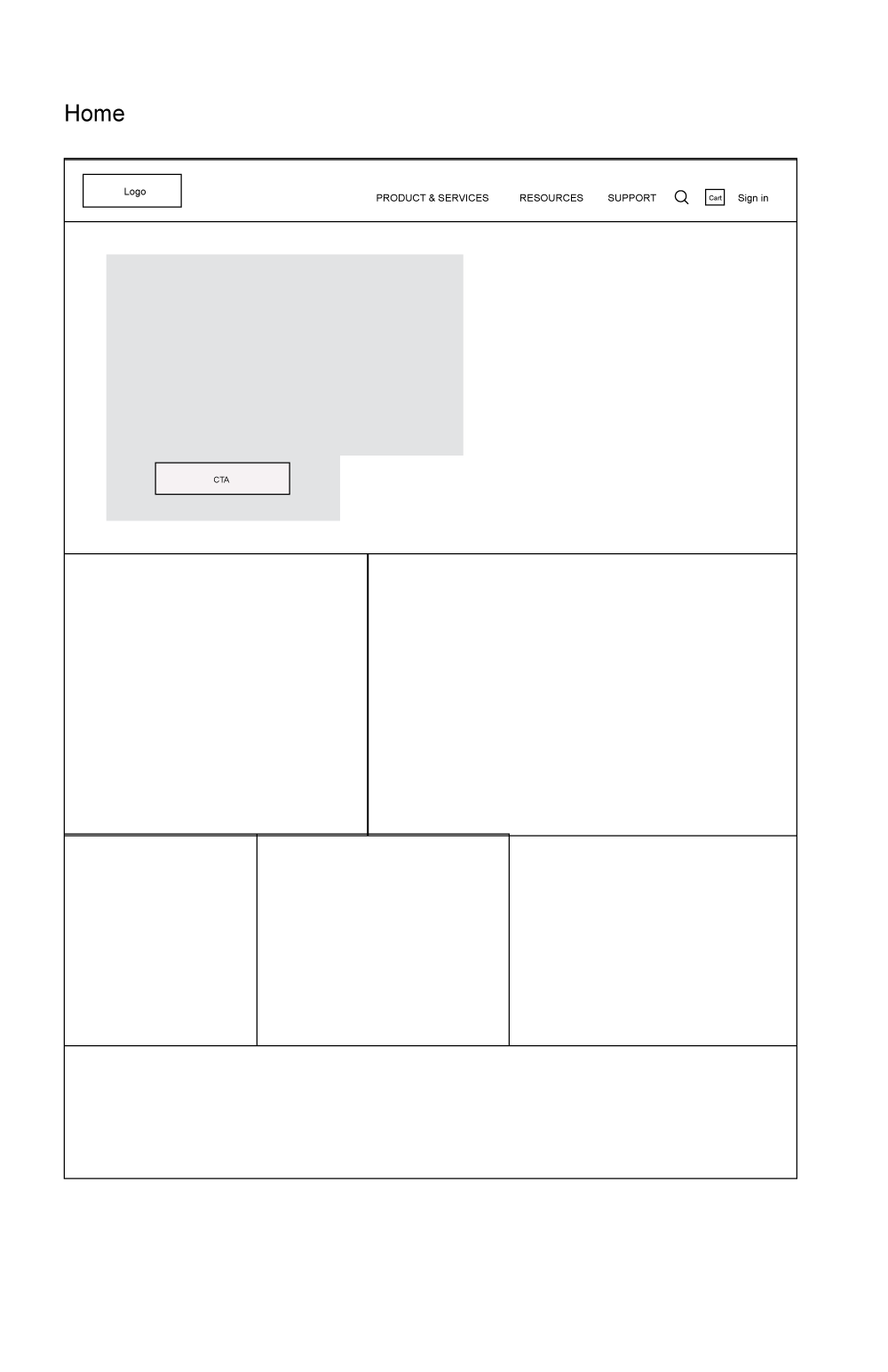 Wireframes
The team create a number of wireframes to map out the structure exactly and get consensus on the copy strategy. We needed to map out the types of content that would be displayed on the homepage and rough out how much copy would appear. We wanted to ensure we were creating the right solution that prioritised UX while also accomodating multiple stakeholders with conflicting agendas.
The UX Director initially created low fidelity wireframes. After a number of iterations of wireframes and discussions with stakeholder, we created high fidelity wireframes and ran them through user testing.
UI Design
The corporate brand was focused on bright, white pages with Norton yellow highlights. The style was fresh, friendly and personable. I based my design on the corporate brand, trying to be on brand while also moving the brand forward. Security can be a bit dry and impersonal, so I wanted let the imagery speak, focussing on people, lifestyles and the personal side of security. We continued to follow a responsive/adaptive hybrid approach with three breakpoints optimised for mobile, tablet and desktop.
I was happy that the final product fulfilled the requirement for all sections of the business to have space to run promotions that were important for them. The design served customers by bringing a mix of product offerings and security information together in a relevant way. The content was personalised using data from where the user had come from and also whether they had an account with us.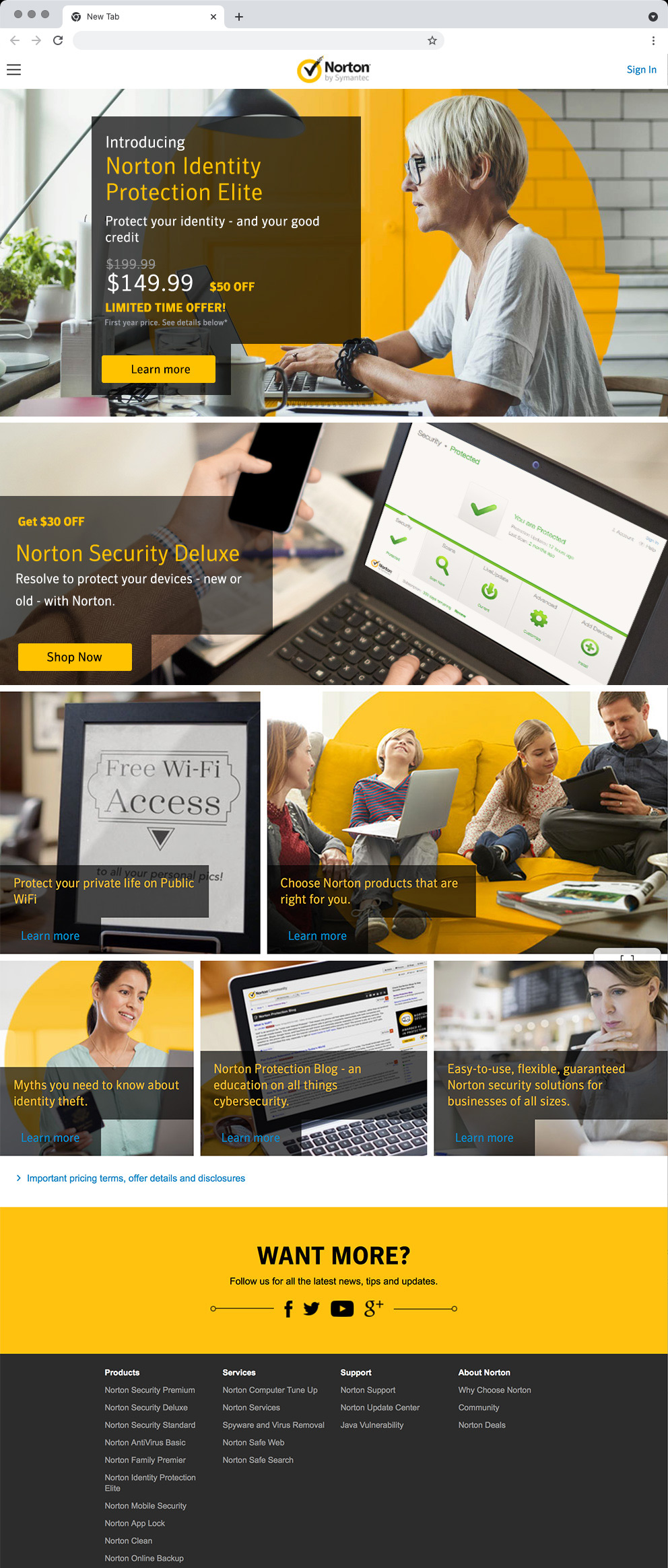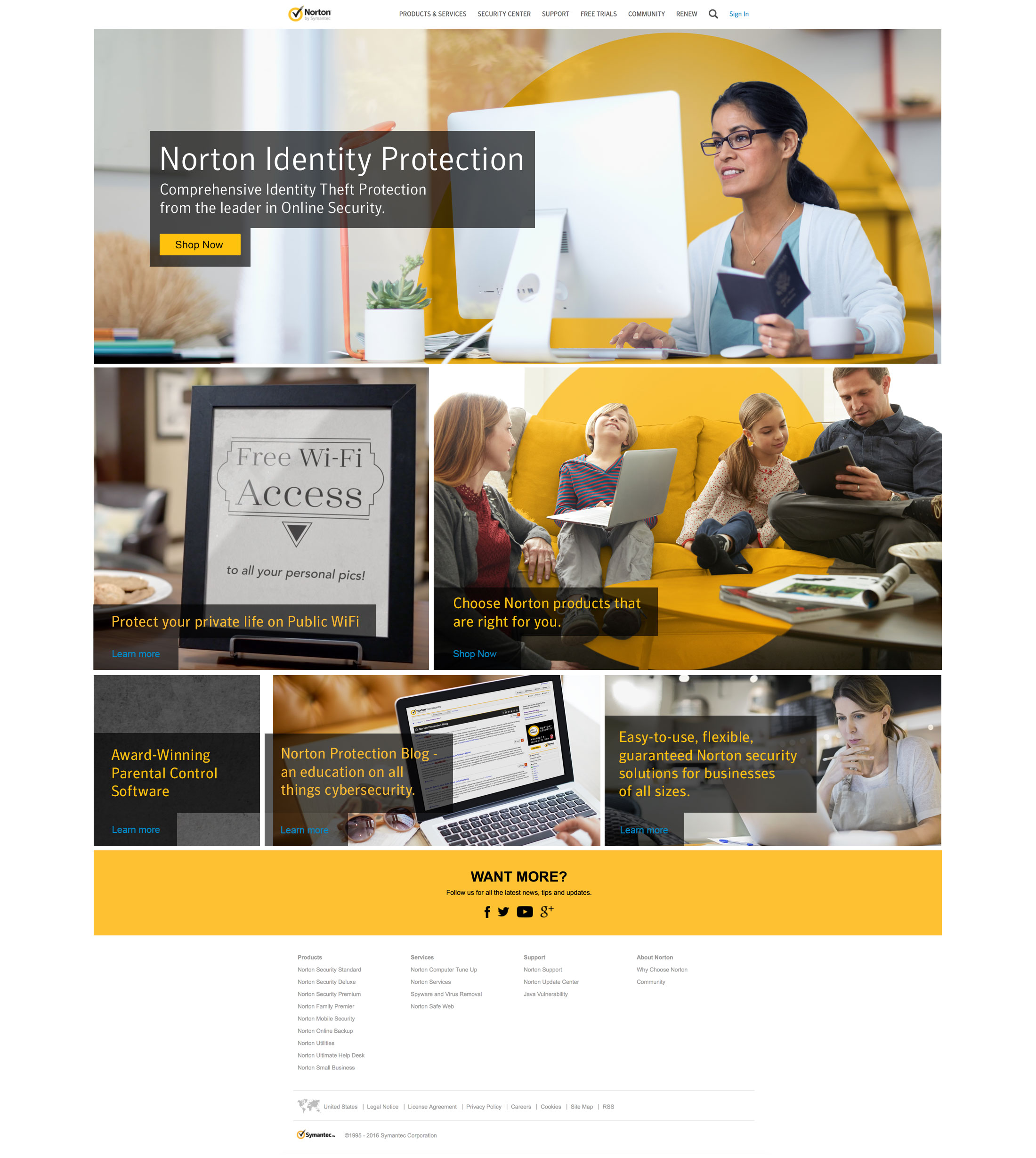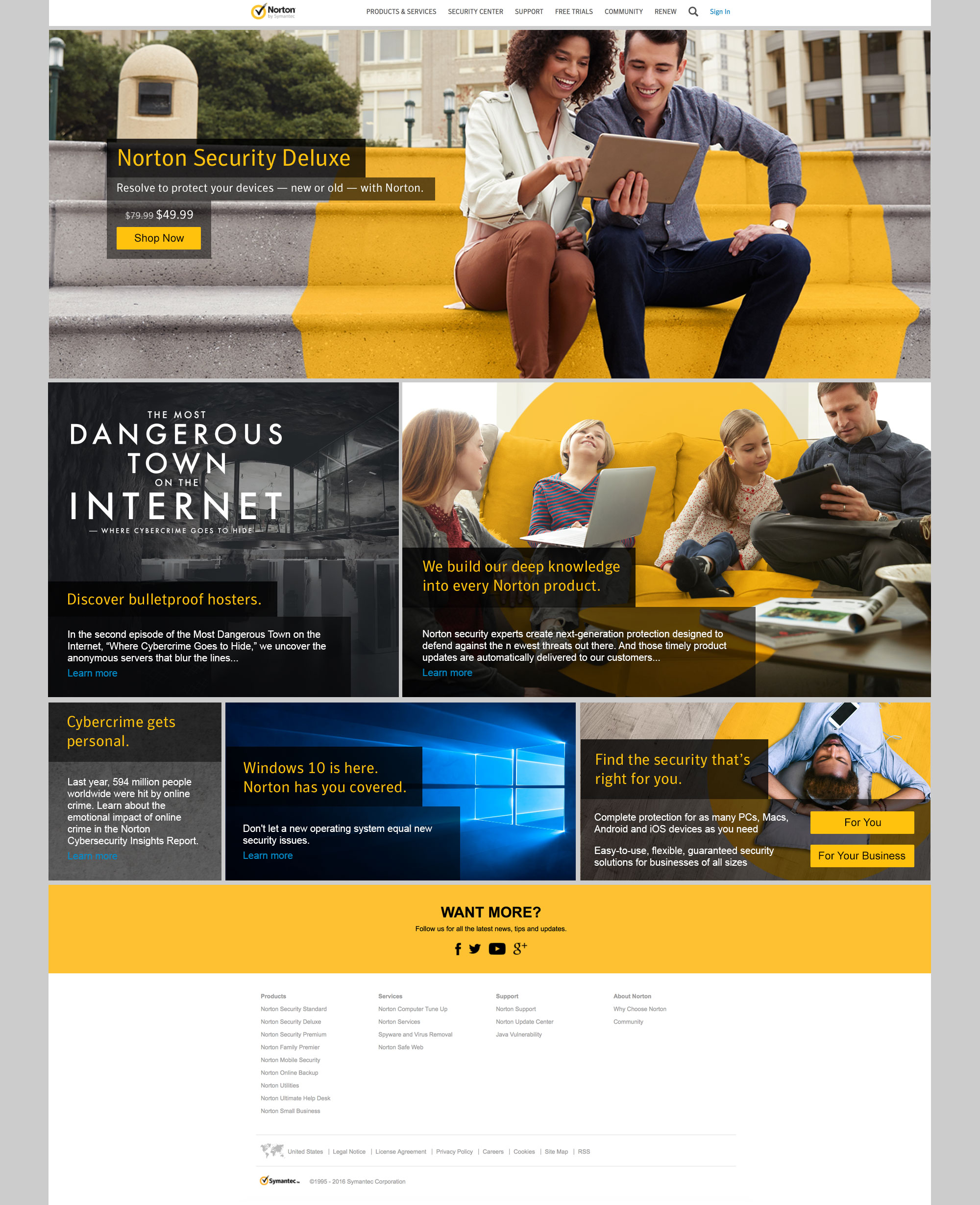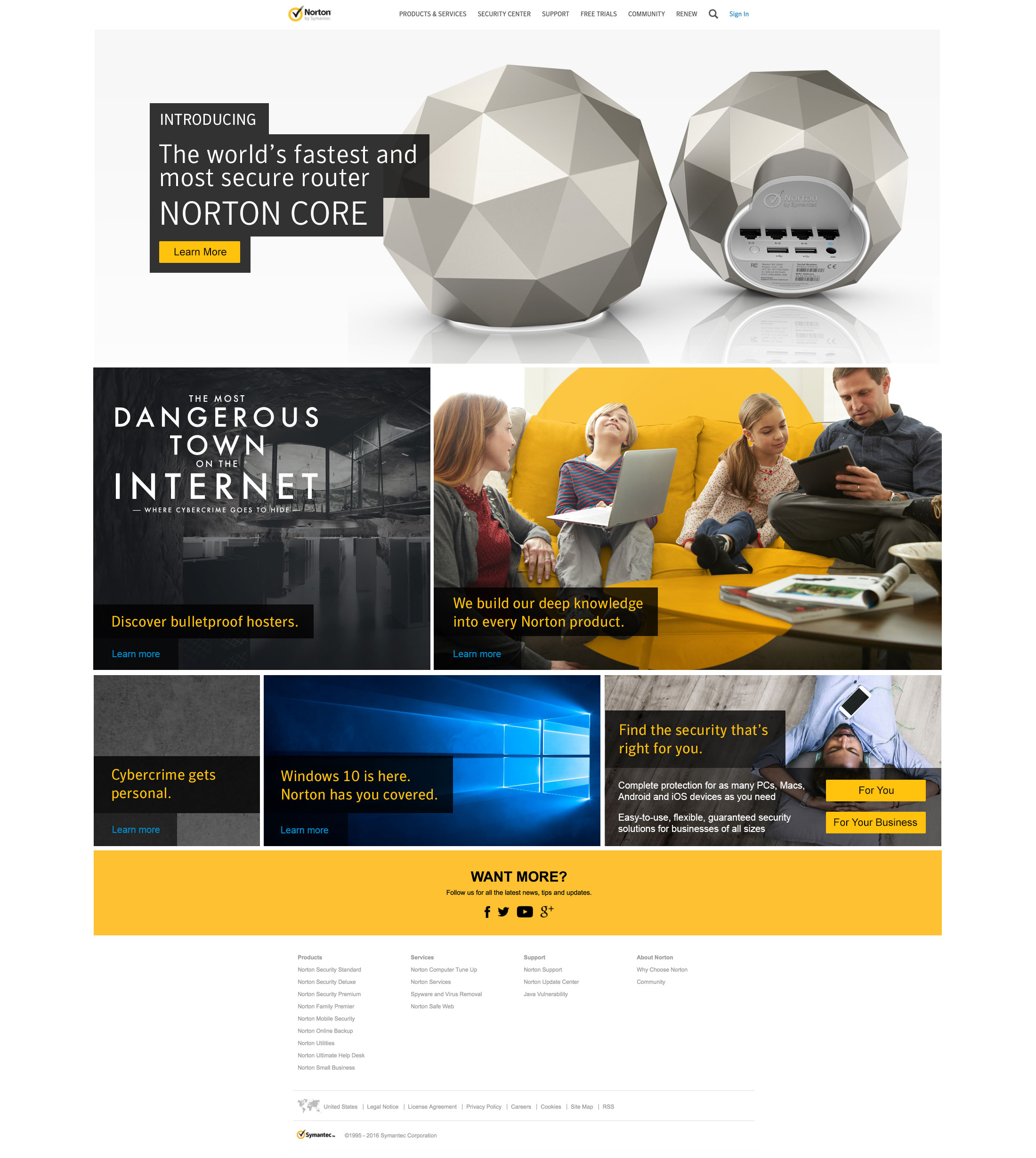 12%
More products in cart
1%
Lift in annual revenue
Some Learnings
There were so many stakeholders across the business in various silos that I was concerned this project would end up being a failure for our customers. As I've seen on numerous occasions, too many conflicting internal myopic interests result in a substandard product. Luckily we had some strong design leaders who were able to wrangle and cajole them towards a viable solution. There always has to be someone in the business at a senior level who truly represents the voice of the customer.