NortonLifeLock was launching a new global product specifically targeted at the gamer demographic. This customer segment had unique requirements around performance that weren't being serviced by our other products. Gamers have a greater need for security due to the exposure to multiple vectors of attack and their investment in digital assets and identities. Also, speed is key, so they needed software that was optimised to have as little impact on computer performance as possible. With the new product, the business needed a landing page that would resonate with this tricky market segment. I worked on the visual design and UX in conjunction with a copywriter and liaised directly lead stakeholder for the project.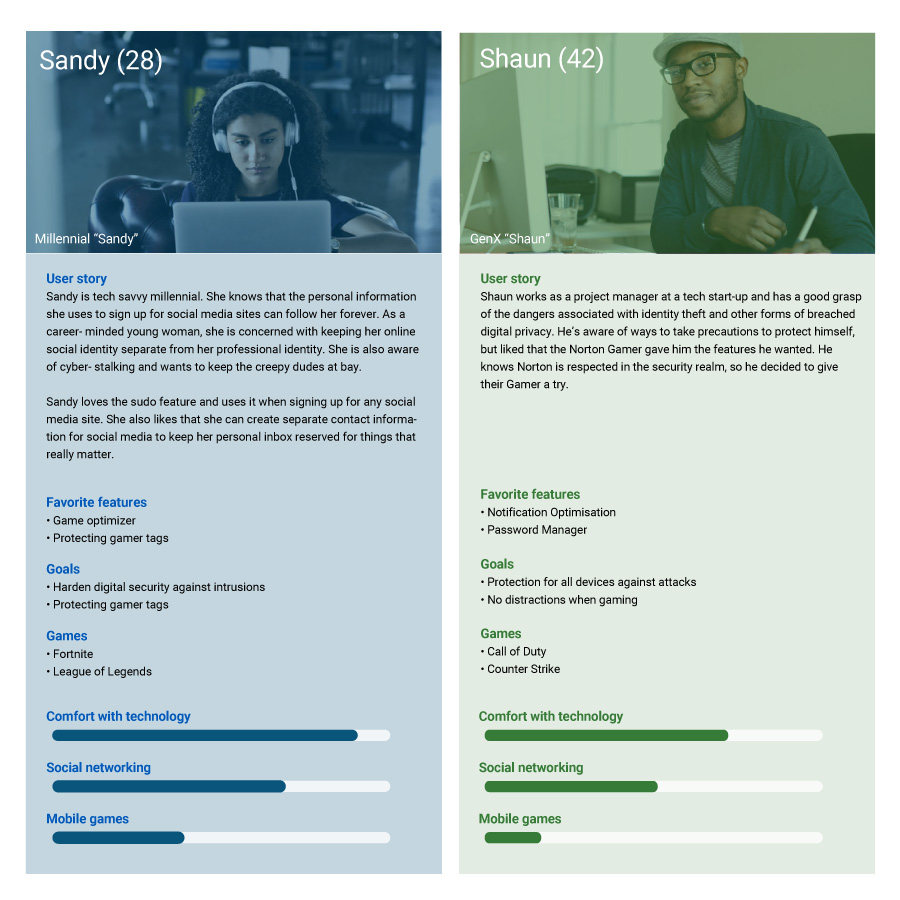 Personas
It was important to correctly identify the correct gamer persona we were targeting. We new gamers hailed from across a wide range of age groups however we need to identify the one's who would most likely but this product.
To develop our personas we used a variety of data sources ie marketing research and surveys, ensuring that the features and imagery were relatable and made sense to gamers. We also needed to make sure it was authentic so we also got insights from internal staff who were hardcore gamers. We distilled this data into two key personas that captured the gamer demographic.
User Testing
We launched some quick qualitative tests to see if our page designs were on the right track. We wanted to know if users responded to the page text, imagery and found the product compelling. We also wanted to gauge if users had enough information to move to purchase.
Our tests were remote and unmoderated and we initially tested in our target demographic, then ran additional tests to capture insights from users who were outside of our initial target demographic. We wanted to know if our core market resonated, then we wanted to know if we were also appealing to other groups. We found some of our images and text were not resonating, so we rectified those issues and tested until we had a solid final design.
Visual Design
The page design was in keeping with the rest of the site and adhered to the corporate brand style. At the time the site was dark and evoked a sleek, tech style.
The page need to work on multiple devices, so I used a responsive/adaptive hybrid layout, which was the approach for the broader website. Specific breakpoints for mobile, tablet and desktop which are each adaptive.
Imagery was chosen which we felt would resonate with gamers and also potentially appeal to our existing customers. We also used images of real gamers from within the company and also enlisted the help of Twitch streamers with active sponsorships and promos. We surfaced relevant product information and displayed more detailed information via accordions.



Final Thoughts
I wanted to be sure that we were presenting the new product in an optimal way. I was worried the new Gamer product would fail because our page wasn't communicating to customers properly. New products can be tricky to launch as there is no control to work from, nothing to measure against. Success is measured after the fact so there is the fear that it won't sell at all. Although page design is one factor in success, it's often the design which is held responsible for failure. Fortunately the product gained traction and the page is converting. Happy!